Dear Friend,
The last month has flown by as we continue to register campers, hire summer staff, and prepare for an incredible camp program this summer.
Today we launched our online Parent Packet with links to many of the important forms you will need for the upcoming summer. Additionally, we are launching an exciting app for parents this summer! You will find all the details and links below.
We encourage you to reach out at any time as questions arise. You can always reach us via email, or at (301) 231-5300.
Sincerely,

---
2022 Parent Packet & Forms
Our Parent Packet is integrated into our website in the Current Campers section (and can be found here). You will be able to click through all of the relevant pages of information, and find a list of all camp forms that need to be completed. Forms can be accessed through your CampInTouch account at any time.
You can expect to see transportation information and more in the coming months (we will email you as additional forms become available). We appreciate your cooperation in filling out the forms in a timely manner as they become available. Forms are due on April 1st.
---
Campanion App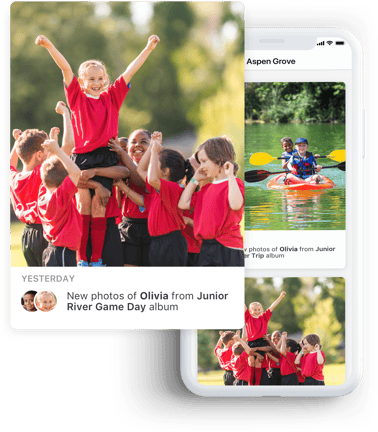 We're excited to introduce a new app for our parents this summer. This app will allow for additional features we've never had before such as facial recognition for photos, filling out forms on your phone, and even sending bunk notes directly from the app. Campminder charges a small fee ($25 per camper) to gain full access to photo tagging and notifications along with many other features.
Parents who choose not to use the app will still have access to all of our camp photos via your CampInTouch account on a computer.
Sign up using the additional options form in your CampInTouch parent portal and download the app today to get instant access to your camper's forms for the upcoming summer.
---
2022 Payment Deadlines
Final Tuition Payments are due by Tuesday, March 1st. If you need to set up a payment plan for your remaining balance, please contact Lynn Robinson.
You can pay your balance online through your CampInTouch account. Please remember there is a 2.5% fee for credit card payments, but e-checks and debit cards have no additional charge. If you prefer to mail a check, it can be sent to:
Perlman Camp
11820 Parklawn Dr. Ste 380
Rockville, MD 20852
---
Refer a Friend, Earn Tuition Credits!
Did you know that you can save on camp tuition by telling people about your favorite place? Help us spread the word about camp in your community!
Receive $250 for hosting an informational meeting for prospective families.
Receive $500 per family you refer who registers for camp.
Email Candice if you're interested in hosting a meeting!
---
WHAT'S NEXT?
Please continue to reach out with any comments, questions or suggestions for us - we look forward to connecting!