Dear Friend,
We are excited to be opening Perlman Camp safely in 2021, and know that June cannot get here soon enough for all of us. While the world around us is in flux and some days are more challenging than others, we know without a doubt that getting our community back together is our top priority. Camp this summer is more important than ever for our campers, staff, and parents.
We are continuing to register campers and are excitedly hiring back many of our incredible returning counselors. Our team cannot wait to get back to their summer home and spend the summer bringing camp to life for our campers - we have all missed it so much!
Below you will find updates on our summer plans, and we encourage you to reach out at any time as questions arise.
Sincerely,

---
COVID-19 Updates
PLANNING & IMPLEMENTATION
As we continue to work on the details of our plans and learn from camps that ran successfully last summer, we look forward to sharing updates in the coming weeks and months. The American Camp Association (ACA) has provided all camps with a field guide that is designed to provide practical guides and tool kits to implement recommendations provided by the CDC to reduce potential exposures and spread of COVID-19. The image below illustrates 9 multilayered non-pharmaceutical interventions (NPI) and strategies we plan to implement this summer as detailed in our Perlman COVID-19 Plan.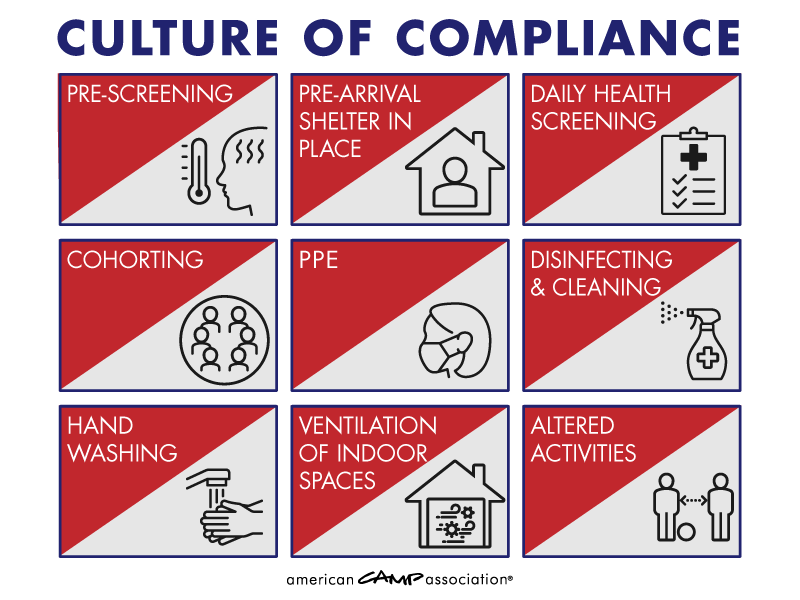 SITE UPDATE
We are currently installing extractor fans in every bunk and our maintenance team is hard at work creating multiple hand washing stations in high traffic areas of camp and eating areas. We are committed to sharing continuous updates regarding our enhancements at camp in the coming months.
TESTING & VACCINES
At this time, we are reviewing our protocols for COVID-19 testing prior-to, during, and after arrival at camp, as well as determining what testing we will utilize on-site. Families can expect to be asked to show evidence of a COVID-19 negative molecular PCR test several days prior to arrival at camp. Upon arrival and throughout the first week or two of the summer, campers (and staff) will be given multiple rapid antigen tests to confirm they are COVID-19 negative.
We are encouraged and optimistic about the news regarding COVID-19 vaccines, and expect that this will significantly decrease community spread prior to the summer. We are hopeful that as many as possible of our staff will have access to vaccines. The ACA and partner organizations are advocating on a state by state level to allow camp staff access to vaccines in the educator/childcare worker category.
WHAT'S NEXT?
In February, we expect to send out information about camper forms and additional news and updates regarding our COVID plans for camp. If you have a scheduled annual physical and need to access your physician form, you can find it under Forms & Documents in your Parent Portal at any time.
Please continue to reach out with any comments, questions or suggestions for us - we look forward to connecting!